Yulex® wetsuit with natural rubber
What is Yulex® natural rubber?
You might know natural rubber as Yulex, Yulex-Pure or simply neoprene-free natural rubber. But all these names refer to the same material. It is a sustainable natural rubber developed by Yulex that can be used to manufacture wetsuits and other water sport related products. Even shoes and backpacks can be made with Yulex® natural rubber. In this article we will explain what Yulex® natural rubber is and why we use it to produce our SRFACE Eco wetsuits.
Traditional neoprene
Traditionally speaking there have been two ways to produce polychloroprene or neoprene. The first one is Petroleum-based (read: nasty and polluting). When neoprene was first invented by Dupont in 1930 the production was based on oil and petroleum-based materials which were being polymerised. This process of polymerization transformed the materials into rubber-like chips called chloroprene. These Chloroprene chips were eventually superheated and transformed into Neoprene at very high temperatures. Nowadays water and sulphur is added to the Chloroprene and the Neoprene is cut into sheets. 
Secondly there is limestone-based neoprene. Limestone is mostly mined in open quarries but due to environmental concerns production by underground mining is preferred. The extraction process requires careful drilling and crushing the retrieved ore. The limestone is heated at a temperature around 1/10 of that used for refining petroleum but still requires a lot of energy. Due to the fact that limestone is not petroleum based it's a huge environmental improvement compared to classic neoprene production. However, mining limestone and heating the material are still seen as unsustainable activities. 
New generation Yulex® natural rubber wetsuits
In 2012 Yulex® released the first alternative to the traditional wetsuit in partnership with Patagonia®. Made out of natural rubber harvested from rubber trees, plant-based and latex-allergy friendly. In the first few badges the material was still inferior to original neoprene with regards to flexibility and durability. Due to constant innovation Yulex® was able to improve these characteristics and match – and some argue transcend – traditional neoprene quality. The Yulex® production process saves up to 80% on CO2 emissions in one wetsuit compared to traditional neoprene.
Yulex® natural rubber: How is it made?
Sustainable products literally start from the ground up, all Yulex® rubber plantations are 100% FSC® certified. FSC® certified means that buying your new SRFACE Eco wetsuit does not contribute to deforestation, human right violations or abuse of agricultural pesticides. It also means that the hevea rubber – the main ingredient Yulex®- is only extracted from plantations that preserve ecological integrity and biodiversity. Though only 4% of global rubber plantation area is currently FSC®-certified, well-managed FSC®-certified forest management has the potential to affect a positive environmental and social transformation of the natural rubber sector.
Once the rubber is extracted from the hevea trees it undergoes a refining process to remove any impurities, ensuring maximal material performance. The process itself is quite technical, but if you're a material geek you can read more about it here.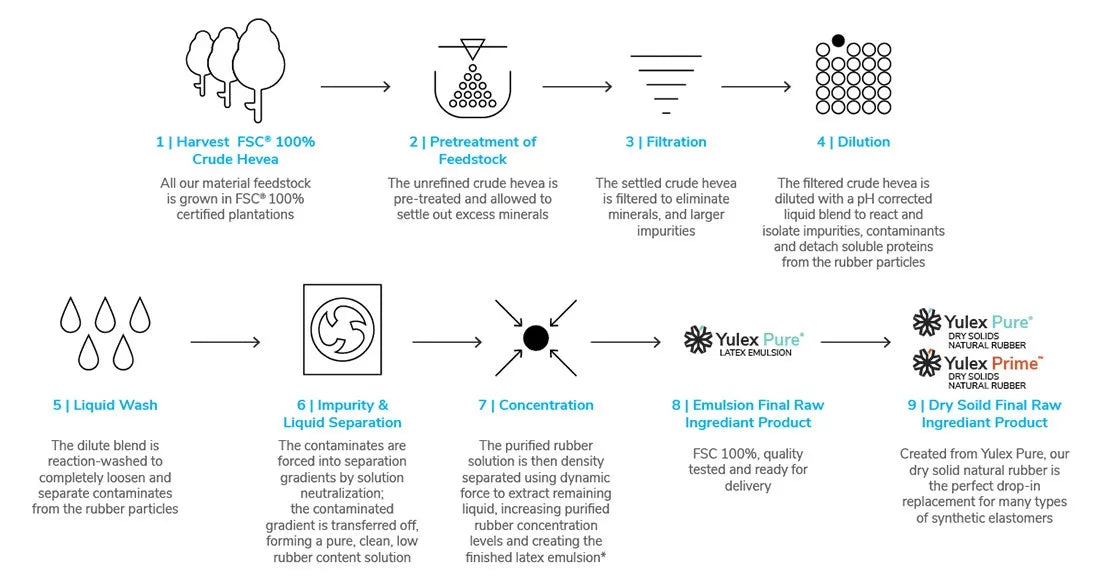 Finally, the dry Yulex® natural rubber is mixed with high quality ingredients to assure it features the qualities you are looking for in a new wetsuit, the most important being flexibility, insulation capacity, UV resistance and durability. 
Are you ready for the next step to a sustainable future? Check out our new SRFACE Eco wetsuits made with Yulex®.