SRFACE Stories
Buying a wetsuit online – 10 tips
10 insider tips for buying your next wetsuit online
Remember sweating, panting and worming yourself into countless wetsuits and simply losing the stoke you should feel when buying a new wetsuit? That will soon become a thing of the past if it were up to us. SRFACE is revolutionizing online wetsuit shopping with an intuitive Size Finder, free same day shipping, free returns, a risk-free 30 day trial, no-nonsense warranty and live chat support by surfers.

For some people buying a wetsuit online comes naturally, while others might need some guidance. So, if you've never bought a wetsuit online we're here to help.

What are things to consider when buying a wetsuit online? And what should you avoid? In this article we'll share our 10 tips for care free online wetsuit shopping.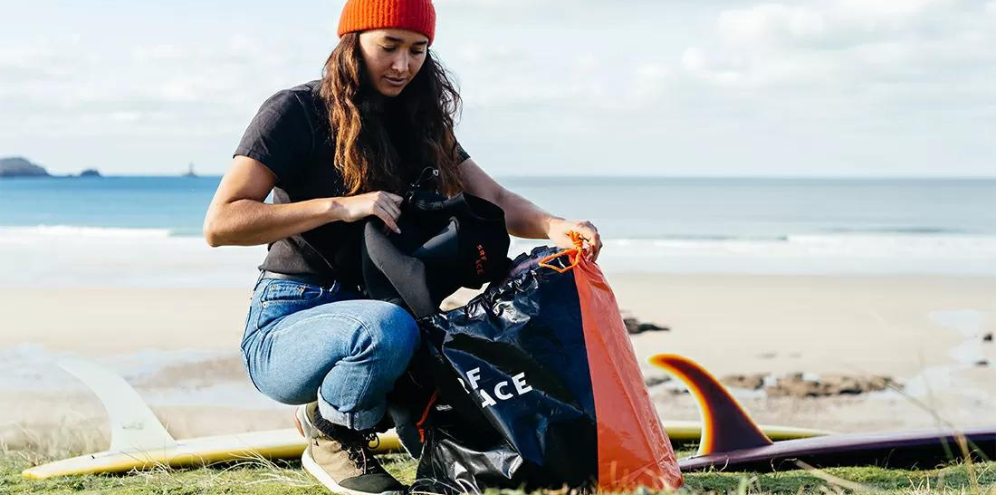 1. Choose the right wetsuit size
A wetsuit is a tight-fitting flexible garment that is specifically designed to keep you warm in cold water. It's of great importance to choose the perfect size so that the wetsuit fits your body like a second skin. This is why, in contrast to everyday apparel, most wetsuit brands offer a wide range of wetsuit sizes to fit many different body types.

Wetsuit sizes are a combination of body height, as well as chest- and waist width. If you're not sure what wetsuit size is best for you, we recommend using the SRFACE Size Finder. It's very simple to use and will give you a good indication of the size that will suit you best.

First things first – get a measuring tape to measure your body sizes. Not sure how to measure yourself? Check out our video instructions. Otherwise, our support team is run by surfers who are available 7 days a week for personal sizing advice. Consult them via the chat function on our website.

Keep in mind: Not all brands use the same patterns for their sizes. If you're a size medium in brand X, that doesn't mean you should get a medium in other brands. Always take your measurements and consult the Size Finder when you buy a SRFACE wetsuit.
2. Choose the right wetsuit thickness
Different water temperatures require wetsuits with different neoprene thicknesses. Thicker neoprene equals a warmer wetsuit due to the higher thermal insulation grade of thicker neoprene.

Neoprene thickness ranges from 2mm for summer wetsuits to 7mm for extreme winter conditions. The location and season in which you are planning to use the wetsuit play a huge role in choosing the right wetsuit neoprene thickness. Water and air temperatures at the time of the year when you plan to surf are things to take into account.

Not sure which thickness you need? Use the SRFACE Thickness Calculator.
3. Check and compare materials used between different brands
Generally speaking, wetsuits are made from one of 3 different types of material – traditional neoprene, limestone neoprene, or Yulex® Closed Cel Foam (CCF).

Traditional neoprene is petroleum-based, which means it's quite nasty, polluting and, as such, somewhat obsolete. The recipe for this material hasn't changed much since it was invented in 1930.

Another common material used to make wetsuits is limestone neoprene. Compared to traditional neoprene, this material is a huge environmental improvement as it's not petroleum based. The main qualities of limestone neoprene, namely flexibility and durability, surpass those of traditional neoprene by a long shot.

Last but not least there's Yulex®, a natural rubber harvested from rubber trees, which is 100% plant-based and latex-allergy friendly. Yulex has the lowest carbon footprint in modern wetsuit production. This neoprene-free natural rubber foam is more costly than limestone neoprene but its qualities are improving rapidly and are now matching those of limestone neoprene.
4. Check and compare features used between different brands
So many wetsuits, so many features. It's a good idea to compare wetsuits based on the following characteristics:
– Type of foam used (i.e. limestone neoprene, oyster-shell neoprene, petroleum-based neoprene or natural rubber)

– Type of inside lining used (i.e. recycled lining, 360° stretch lining, fully double lined, plush inside lining)

– Outside lining (i.e. single-lined, double-lined or mesh panels)

– Seam type (i.e. GBS, sealed and/or taped seams)

– Neck material

– Arm and leg cuffs

– Zip construction

– Key pocket

– Melco dot seam reinforcements

– Type of lamination glue used

– Type of dyes used

Some brands might use different names for different features. At SRFACE, if it's limestone neoprene, we'll call it that. We never really understood all those fancy names anyway. We use materials and features only if they make a better product, never because 'it sells'.
5. Check if returns are free
Even though our Size Finder has proven to be a very useful tool, sometimes you'll need to return your wetsuit. When buying a wetsuit online, always make sure to check the return policy. Do you have to pay for the return? Does the order come with a pre-printed return label?

We like to keep things simple. Returns are always free and every order comes with a pre-printed return label. All you have to do is activate your return at srface.com/returns and re-use the wetsuit bag to return your order.
6. Check the customer support
You might have some questions when you're buying a new wetsuit. What wetsuit thickness should I buy? What is the difference between the different styles SRFACE offers? We believe questions are best answered by people who know what they're talking about.

This is why SRFACE offers live chat support (by real surfers) 7 days a week via the chat function on our website. We're happy to help you with advice on your wetsuit, to find the right size or thickness or to chat about your last surf trip.
7. Check if you can try the wetsuit in the water and still return it
Imagine you've ordered a new wetsuit online which fits great and you decide to go for a surf. Once in the water you notice something just isn't right. You might have chosen the wrong thickness or size, or you get a bad rash from a specific seam.

Surfers know that the true test of a wetsuit is how it feels and fits when you get it wet. That's why we give you 30 days to put it to the test – sand, salt, wax, the works. If our wetsuit isn't for you, you can return it within 30 days from receiving the item, no questions asked. Except maybe why you want to return it :-).
8. Check the wetsuit warranty policy
Wetsuits are usually made by hand. And whenever human beings are involved in any process, mistakes will be made. When buying a wetsuit online, always make sure to carefully read the warranty policy of the brand or company you're buying your products from.

At SRFACE we offer a 1 year no-nonsense warranty. This means that if you suspect a warranty problem, you can request a repair or replacement at any time.
9. Consult with friends
We're not all wetsuit wizards and of course the internet can provide plenty of useful information. However, don't hesitate to reach out to your fellow surfers and get their take on their favorite wetsuits. The more you surf, the more you learn.
10. Buy from a wetsuit specialist
There are a lot of webshops out there selling wetsuits. Some of these shops sell a lot of other products and aren't exactly 'wetsuit experts'. We believe it's best to buy your products from experts and if possible, from people who actually produce and use the products themselves. Do your research, who are the people behind the shop you're buying from. Read reviews. Check out their Instagram, LinkedIn and Google the company. Does it feel comfortable and trusted?

There you have it – our 10 insider tips that will help you to buy your next wetsuit online with all the flair of a seasoned professional. Ready to get shopping? Don't hesitate to contact us if you have any questions!
Surfers: Raskall, Marlon Lipke, Nina Moerdijk, Bénédicte Emery & Izzy Henshall

Behind the lens: Jan Bijl, Lucas Pelus, Joao Bracourt, Ozzie Hoppe & Joris Lugtigheid.
The ultimate wetsuit for every surfer